Two Forms
You must be the mage of two forms, yes? Welcome, I have a task for you. With your exceptional powers you are tasked with bringing me the riches of the Farlands. Be wary though, there are many threats that lie ahead. Good luck!
Gameplay
The aim of the game is to collect all 50 of the collectible coins in a level as fast as possible. You will need to toggle ghost mode on to see platforms but toggle it off to fend of the threats that come at you in the form of... slimes! Collect them all to finish a level.
Are you up for the challenge?
Tell me what your best time is for each level and most importantly have fun! Be sure to rate and let me know how to improve!
Controls
WASD - Move
SPACE - Jump
LEFT SHIFT - Toggle ghost mode on/off
LEFT MOUSE CLICK - Fire projectiles (cannot be in ghost mode)
ESCAPE - Pause game
Bugs Identified

Character falls through the map if going too fast.
Enemies fall through map sometimes making them useless.

Credits
Made in one week by a solo developer for the VimJam "Collectibles" focus and "There and Back" theme. This is my first game and game jam so do let me know where to improve.
Designed and Developed by Cursed Soldier:
https://cursedsoldier.itch.io/
https://www.youtube.com/channel/UC1h1AYu9aCn_2HUVSiTk-RA/featured

Music by Joshua McLean:
Contains music ©2020 Joshua McLean
(https://joshua-mclean.itch.io)
Licensed under Creative Commons Attribution 4.0 International
AI:
https://arongranberg.com/astar/
Royalty Free Sound Effects:
Copyright © 2020 Adobe Inc
Font:
Copyright 2012 The Press Start 2P Project Authors
Licensed under the Open Font License
Awesome Player:
You!
Install instructions
When downloading this game you will receive all game files that make it run. In order to play the game please load the .exe file which will launch the game. Good luck and have fun!
Comments
Log in with itch.io to leave a comment.
Great game! and i like the ghosts very much! enjoyed playing it! well done!
Very nice, I was about to tell you about the some bugs but seems like others found them first :D Overall I think this game is really fun to play and you've worked a lot in this week
Thank you! Yes the bugs are annoying haha but I appreciate you gave it a go. Happy jamming!
This is very very nice!
Version played:
Web
Bugs i found:
You can easily glitch yourself trough the floor with enough speed.
The same things applies to the slimes (find one of them inside the ground)
What i like:
- The graphics are nice, and so the music.
- The idea of the game is also cool.
- The level design is very nice.

What i didn't like (this is just my opinion!):
- The background... it was a bit too harsh for my eyes (idk if harsh is a real english word)
- The speed of the character. Ik that the game is also made for speedrunning but for some people (including me), this speed is way too fast.
- You have to use the mouse for shooting. I think mouse is used to point, and not just to press it. imo shooting should use a button on the keyboard.

What i would like to see in the game (ik its made in one week. These are just ideas!):
- The not-ghost charcter is a bit useles. I never really needed to shoot the slimes down. I did for fun, but it was pretty useless.
- Special perks for the not-ghost character. As i was saying, the not-ghost character is pretty useless. Giving it more special stuff for movement, would make the game more interesting by introducing timed character switching (example: dash).
Overall:
The game feels good, the bugs are small!
Very nice game! : )

Hey, this review is so professional thank you! I will definitely take the bugs into consideration for a more polished version of the game in the future. I respect that you gave me improvement advice, its nice to have an outside view on a project to keep me in check and now that you mention it the non ghost character is really useless haha. I need to buff him up a bit. Thanks for the awesome review and good luck in the jam!
Love the game! Half that time was spent trying to find the last 3! I really like the flow, and the simple, but clear challenge! Only had time to play 1 level though.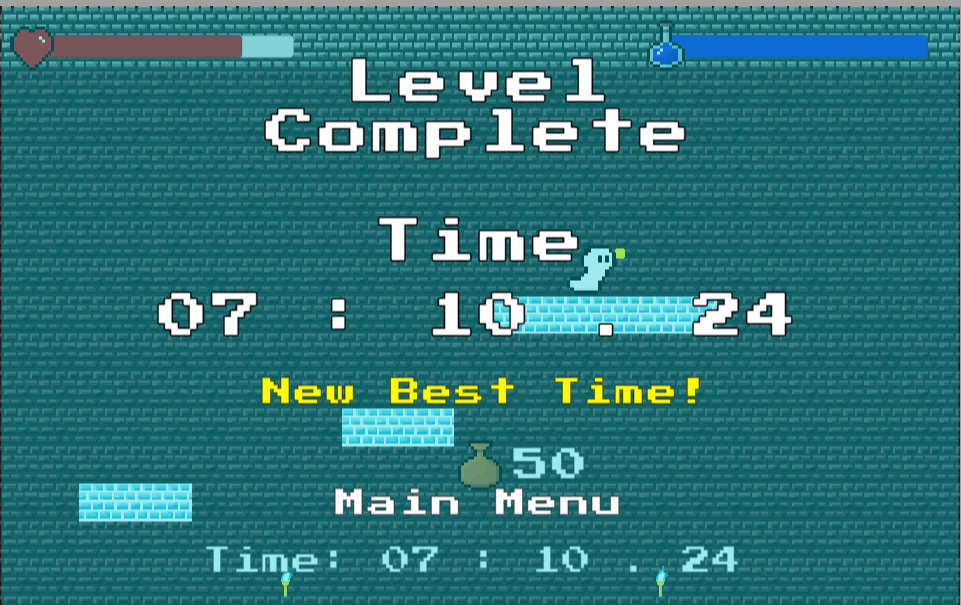 Haha I know the pain, I should have added a map or something. Thanks for checking it out though and good luck!